SouthIndian Lunch Menu #28 – Mambazha Mor Kuzhambu, Vazhaipoo Paruppu Usili, Jeera Rasam, Curd and Rice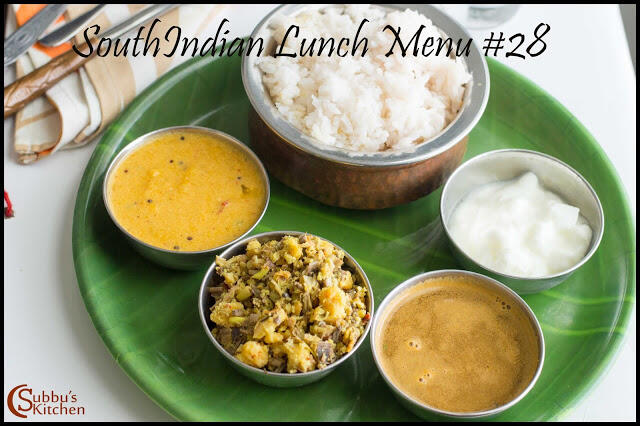 This is one of my favourite Lunch Menu! Mor Kuzhambu with Paruppu Usili and jeera rasam along with curd, papad and rice. In summer season, we get yummy rice mangoes. So instead of plain mor kuzhambu, I made Mambazha Mor Kuzhambu. Always Paruppu Usili and ladysfinger fry is a perfect accompaniment for Mor kuzhambu. I got Banana Flower from market and decided to make Vazhaipoo Usili which would be a perfect accompaniment for Mango Mor Kuzhambu.
Next comes the Rasam. Instead of plain tomato rasam, to make the menu perfect and richer, I made Jeera Rasam. Believe me, it adds more taste to the menu. Mor kuzhambu is little less in spice which will be compensated in Paruppu Usili and Jeera rasam. Finally comes curd and plain hot rice. This would be a perfect meal for a weekend. We can always make plain mor kuzhambu or we can also make bonda Morkuzhambu. Also, we can substitute vazhaipoo paruppu usili with beans or cluster beans. Try this menu this weekend and share your experience.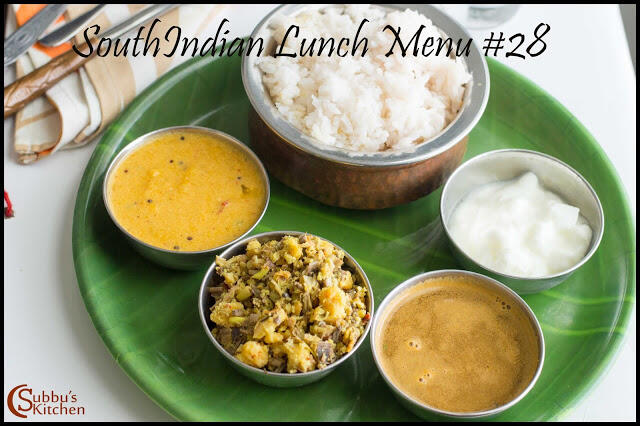 SouthIndian Lunch Menu #28 – Mambazha Mor Kuzhambu, Vazhaipoo Paruppu Usili, Jeera Rasam, Curd and Rice


Preparation and Yield:
| | |
| --- | --- |
| Preparation time | 25 mins |
| Cooking Time | 1 Hour |
| Servings | 4 |
| Recipe Category | Main |
| Recipe Cuisine | South Indian |
Ingredients:
| | |
| --- | --- |
| Coriander Leaves | 1 Cups** |
| Mint Leaves | 1 Cup |
| Green Chilli | 2 |
| Salt | To taste |
| Sugar | 1/2 teaspoon |
| Chaat Masala Powder(Optional) | 1/4 teaspoon |
| Lemon Juice | 1/4 teaspoon |
Recipes:
SouthIndian Lunch Menu #28 – Mambazha Mor Kuzhambu, Vazhaipoo Paruppu Usili, Jeera Rasam, Curd and Rice
(Visited 991 times, 1 visits today)